Each year, bUSA presents the Small Business Award to honor those who are leading the way in which companies assist small businesses and entrepreneurs. The bUSA Small Business Award provides an opportunity for these specially selected organizations to be recognized for offering outstanding financial services and responsible lending practices.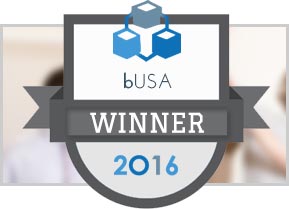 This year, we have gathered our team members to select the nominees for excellence in service in the following categories: Small Business Loans and Military Loans. The award recipients who have demonstrated exceptional work and leadership for 2018 are P2P-Credit.com and Military-Loans.com.
bUSA sends a congratulations to our exceptional winners!
Have you had first-class experience with a lender whom you believe deserves special recognition for their products, services, or practices? To make a nomination for 2019, please contact bUSA to register a business who reflects our standards for high quality and commitment to small businesses.

Small Business Loans

For successfully providing easy and reliable financial resources pivotal to small businesses and owners, P2P-Credit is given the 2018 Small Business Loans Award.

Veteran Business Loans
Military Loans was awarded the 2018 Small Business Military Award for offering fair and honest financing to military veterans and their families.